​
by Poppy Sexton-Wainwright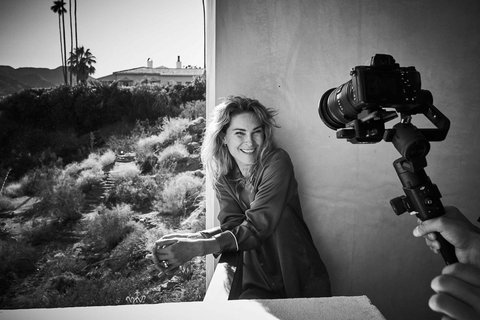 PHOTOGRAPH OUTTAKES ON LOCATION
The epitome of the American Cool Girl, Erin Wasson has been a fixture of the fashion industry since the 1990s. She is a model, actress, stylist, jewellery designer, and has held a place on our mood boards for years. A native Texan, Erin lived in Los Angeles, California for 16 years before recently moving back to New York City. Upon meeting Erin, I was immediately struck by her laid-back and relaxed vibe. She has a slight toughness about her feminine energy. She met us for dinner on the first evening in her signature deconstructed denim cut-offs and oversized t-shirt. She has a seriously enviable style and a way of looking impeccably dressed yet utterly effortlessly so - style traits that landed her a gig styling the past two runway collections for Alexander Wang (if that isn't a sign of your styling street cred, I don't know what is). I interviewed our forever muse while on location to get the scoop on modelling, her favourite places, and her signature off-duty style.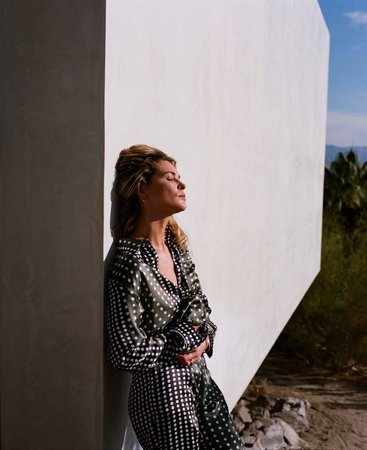 You have lived in New York City and Los Angeles. Tell us what led you to each of these cities.
I moved to New York at 18. LA at 22. In NYC I missed the nature and the sense of adventure that large landscapes and a car can give you. In LA an inspiring road trip is always on the horizon! I spent 16 years in LA and have recently moved back to NYC. I longed for the city energy again and the walking mentality. Having said that, I will always day dream of the light, the LA desert, and warm holidays!
What are your top city picks?
My favourite shops in LA are Scout, Tortoise, Mohawk General Store and General Admission. For food I normally go to Crossroads, Bestina, Himalayan Cafe, Scopa, Petite Trois and Shyma Sushi, I lover to hang out at Chez Jay but am partial to just hanging out at friends' houses!
"Wear what looks good on you. I've always loved people that lean towards a uniform such as James Dean and Jane Birkin." 
​
What are the must-see spots in Palm Springs?
My favourite spots in Palm Springs are L'Horizon Resort & Spa, the back bar at Mr Lyon's, Bootlegger Tiki, Melvun's and all my secret furniture spots!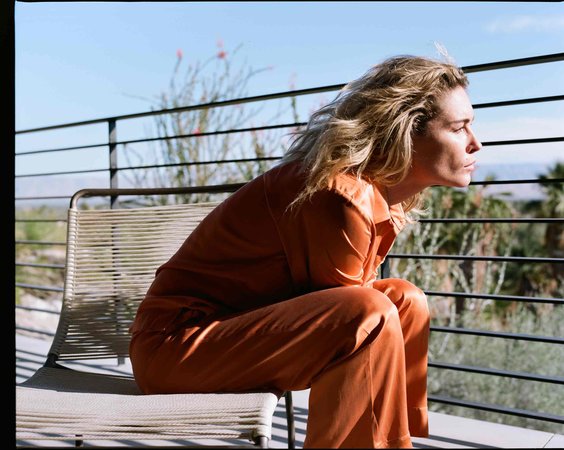 What does confidence mean to you?
Confidence means you have what you need and you're continually searching for what you want.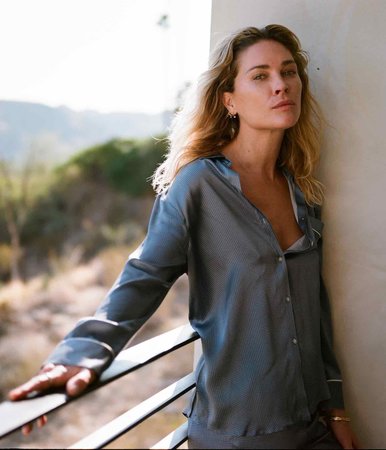 We love when you can see that a woman is confident in who she is and when that confidence shines in everything she does. You are the epitome of this. What is your secret?
Geez thank you! I think I've just been so gung-ho on staying myself! I'm pretty humble knowing I had not one thing to do with my looks. I try to surround myself with intelligent people so I'm always learning. And just being grateful! Pilates also helps...
What books are you currently reading?
Novocento - Alessandra Baricco, Some Else - John Fonte and Dandelion Wine - Ray Bradbury.
If you had to describe yourself in three words what would they be and why?
Strong-willed because I don't bend easily when I really believe in something. Persistent because I won't stop until I've accomplished what I set out to do. Easy-going because I try not to sweat the small stuff and I constantly remind myself everything is bigger than I am. 
"I'm not a huge fan of "dress up" when on a red carpet, I want to look like me just a little more special. But I don't like aborting my personal DNA."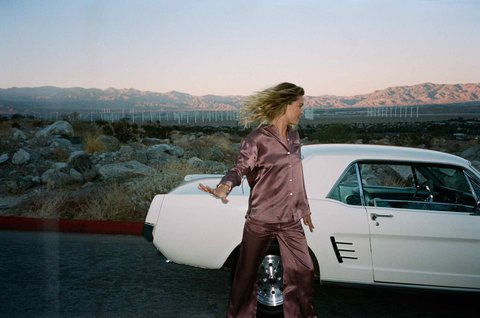 You have a signature style. Do you have a uniform or any style rules that you follow?
Wear what looks good on you. I've always loved people that lean towards a uniform such as James Dean and Jane Birkin. Wear clothes don't let them wear you, and don't follow trends unless a vibe falls in line with your ethos. 
How would you describe your personal style?
Laid-back with some attitude! I'm very basic but love accessories, I love a vinyl pant with some loafers, I love jeans and cowboy boots. A white t-shirt and jeans with a great pair of earrings is my go-to.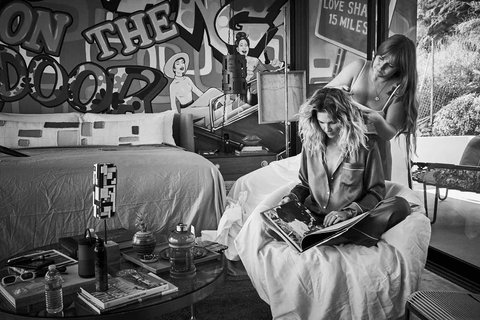 10
ASCENO is a brand that takes a woman effortlessly through every part of her day whether she is lounging around the house, going to a meeting, or going to a cocktail party. Where would you wear ASCENO and how does this way of dressing fit into your lifestyle?
Everywhere! It's an intellectual luxury! When I worked with Alexander Wang we put sweatpants and high heels down the runway. It's luxury down played but in the most nonchalant way. And when you're wearing silk, you're always going to be classy! I love the easy and confidence that wearing silk gives you.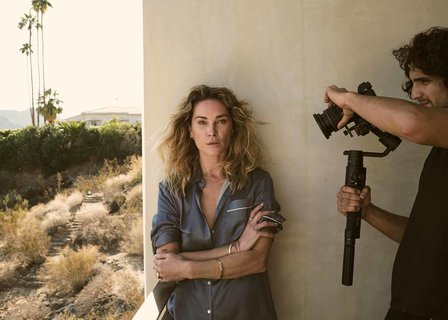 11
How important is it to look effortless? And what does this mean to you?
Very - I want to look like me always. I'm not a huge fan of "dress up" when on a red carpet I want to look like me just a little more special. But I don't like aborting my personal DNA. 
13
We clearly love silk pyjamas and wear them in so many different scenarios. Can you tell us three ways that you would style our pjs?
The whole look with double breasted top and pants and high heels. Silk pants with an oversized white button down and cowboy boots. Silk pyjama top with denim cut offs with either sneakers, boots or heels.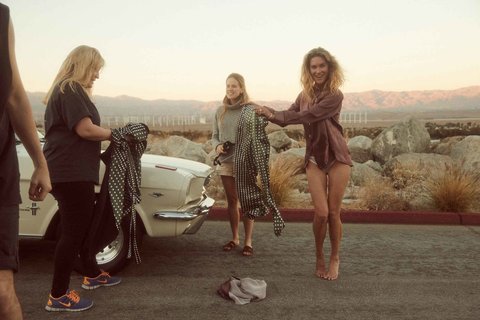 12
Can you tell us your favourite look from this collection?
My favourite look is the all white linen. And I think this is all I need in life. Linen and a scooter! There's nothing more put together, you know, you have this total sense of freedom, but sophistication all at the same time.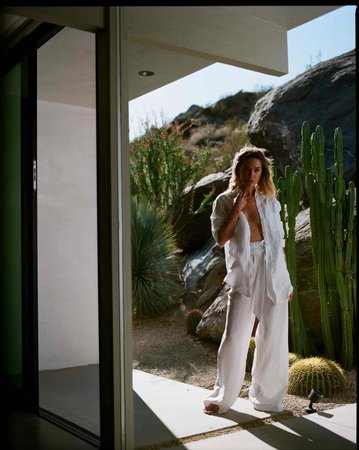 Erin wears the
OLIVE BLACK DOT SILK SET
(coming soon)
Erin wears the

RATTAN SILK SET
Erin wears the

BLUE MICRO DOT SILK SET
Erin wears the
BLUE MICRO DOT SILK SHIRT
Erin wears the

WHITE LINEN BOYFRIEND SHIRT

&

WHITE WIDE LEG TROUSER